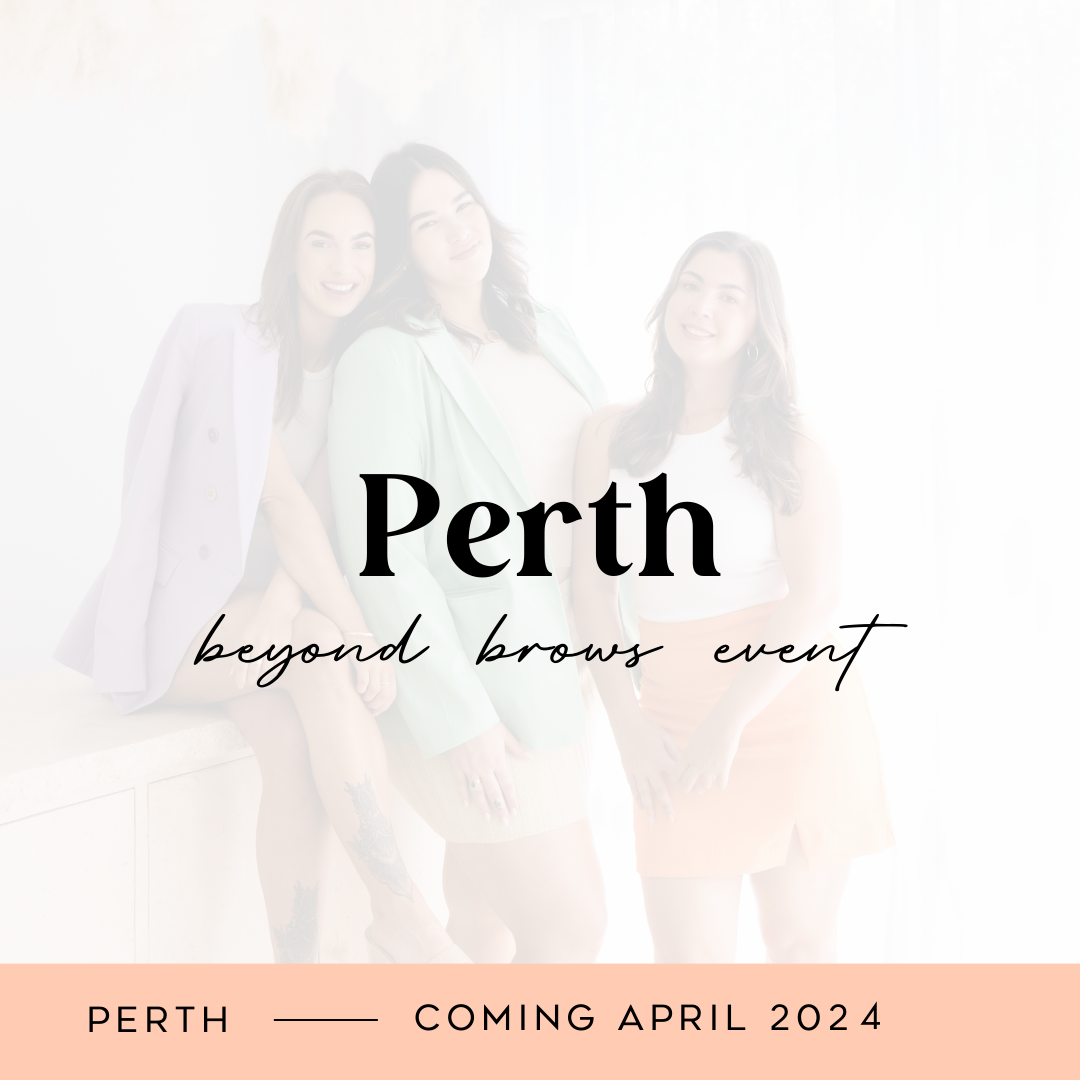 ASH Education - Beyond Brows Event (PERTH 2024)
Join us for two days of educational excellence and beauty inspiration, brought to you by industry experts Anthea, Shay, and Helina.

This event offers a fantastic platform to network, connect, and exchange experiences with fellow beauty enthusiasts, creating meaningful connections and fostering collaborations within the vibrant beauty industry.
Don't miss out on this incredible opportunity to elevate your skills and be a part of a supportive community of beauty professionals!
---
ASH Education - Beyond Brows Event (PERTH 2024)
Frequently Asked Questions

What should I wear?

For the Beyond Brow Beauty Event, we recommend that attendees wear smart and professional attire with a pop of pastels to add a touch of colour and vibrancy.

What should I bring?

No need to bring anything to the ASH Education event; everything is prepared for you. Just come ready to engage and learn.

Payment options?

On our Ash Education website we have Afterpay. We also have more payment options over at Bella Beauty Professional who is also selling tickets which includes Zip Pay, Afterpay, and Klarna. 

Will food and drink be provided?

Food and beverages will be provided throughout the event however if you have any serious allergies, please email us directly with the details.

What style of masterclass are you offering?

Please note that this masterclass is intended as a "Look and Learn" event, where participants will have the opportunity to observe and learn from expert demonstrations and presentations. This format is designed for educational purposes only and does not involve hands-on practice or practical application by attendees.

Where should I park?

Parking information can be found over at Lussh Contact Us page:
Refund Policy & Disclaimer

Ticket Refund and Exchange Policy

Thank you for purchasing tickets to our event. We would like to draw your attention to our ticket refund and exchange policy, which is as follows:

1.Non-Refundable Tickets: All tickets purchased for the event are non-refundable under normal circumstances. Once the purchase is made, we are unable to process any refunds.

2.Transferrable Tickets: Tickets purchased for the event are transferrable to another individual if you are unable to attend. If you wish to transfer your ticket to someone else, please notify us in advance by contacting our customer support team at hello@asheducation.com.au. Please provide the full name and contact information of the new ticket holder. Once the transfer is processed, the new ticket holder will assume all rights and responsibilities associated with the ticket.

3. Event Cancellation: In the rare event of the cancellation, a full refund will be processed for all ticket holders. You will receive communication from us via the contact information provided during the ticket purchase process, notifying you about the cancellation or rescheduling and initiating the refund process. Please allow up to 7 business days for the refund to reflect in your original payment method.

4. Event Rescheduled: We will inform all registered participants about the rescheduling as soon as the decision is made. You will receive communication via the contact information provided during the registration process, such as email or phone number.

We will provide you with the new date and time for the rescheduled masterclass. If possible, we will aim to find a date that is convenient for the majority of participants.

Your current ticket for the original event will remain valid for the rescheduled date.

If the rescheduled date is not suitable for you, and you are unable to attend the masterclass on the new date, we will offer a refund upon your request. Please contact our customer support team to initiate the refund process.

5. Force Majeure: We reserve the right to amend or modify our refund and exchange policy in the case of force majeure events (events beyond our control), such as natural disasters, strikes, or government orders, that may affect the feasibility of the event.

By purchasing tickets for our event, you acknowledge and agree to abide by the terms and conditions of this ticket refund and exchange policy.We appreciate your understanding and look forward to providing you with an exceptional event experience. Should you have any further inquiries, feel free to contact our customer support team.

Disclaimer: Non-Accredited Training Program

Please be aware that this masterclass is not an accredited training program. While it offers valuable educational content and expert-led instruction, it does not lead to formal certification or accreditation recognized by any governing body or educational institution.

Participation in this masterclass is intended for personal and professional development purposes only. It is not intended to qualify participants for any specific industry certifications or professional credentials.

We recommend seeking accredited training and certification programs if you require formal recognition or qualifications in your field of interest. Accredited programs typically adhere to specific standards and regulations set forth by relevant authorities.

By enrolling in this masterclass, you acknowledge and accept that it is not an accredited training program and that its primary focus is on skill enhancement, knowledge enrichment, and creative exploration.

We are committed to delivering high-quality educational experiences, and we believe this masterclass can contribute significantly to your growth and expertise in the subject matter. However, it is essential to understand the distinction between accredited and non-accredited training for your personal and professional considerations.

If you have any questions or concerns regarding this disclaimer or the masterclass content, please feel free to contact our customer support team for further clarification.
WANT TO ATTEND AN ASH EDUCATION TRAINING EVENT NEAR YOU? SUBMIT A LOCATION REQUEST BELOW AND WE WILL ADD IT TO OUR LIST!