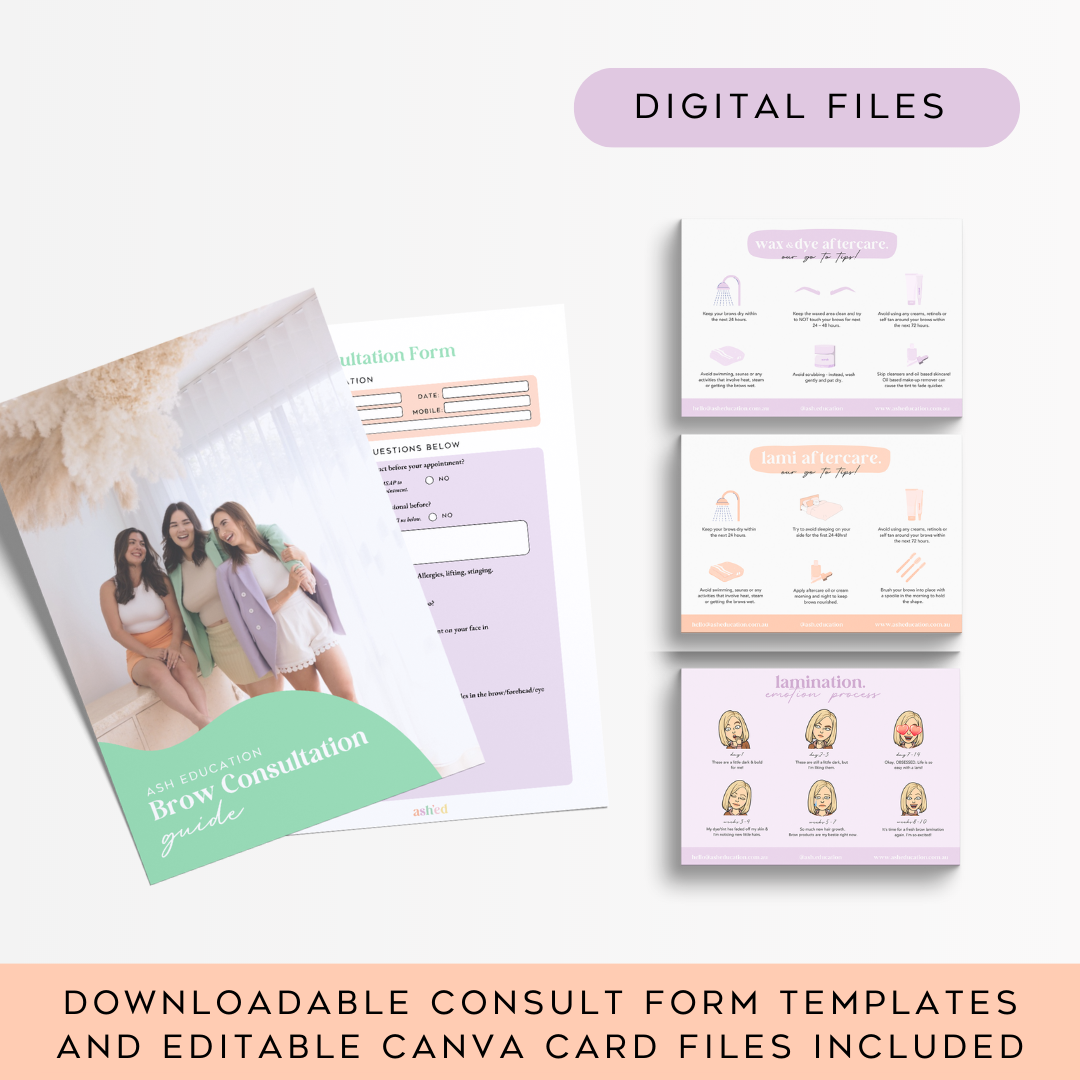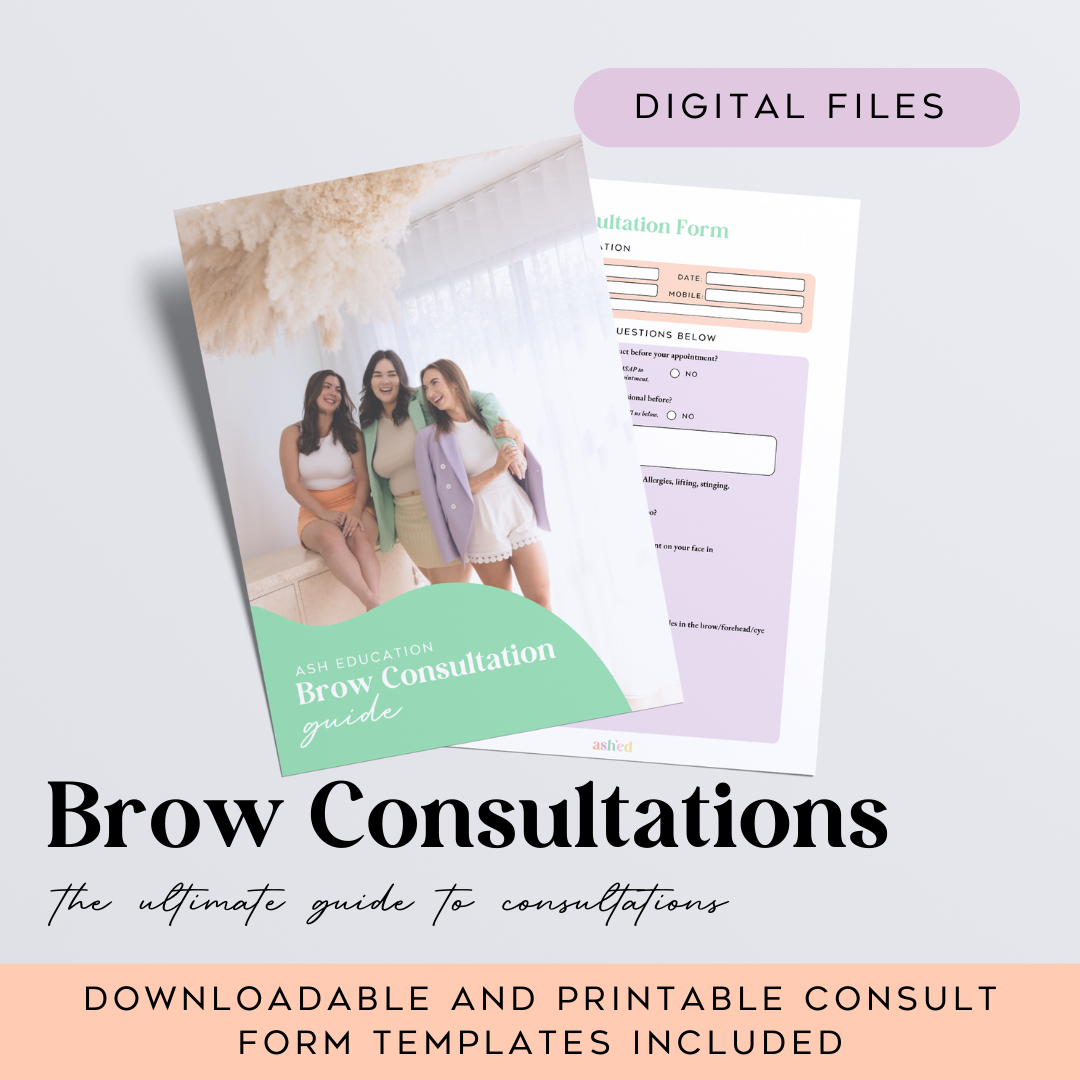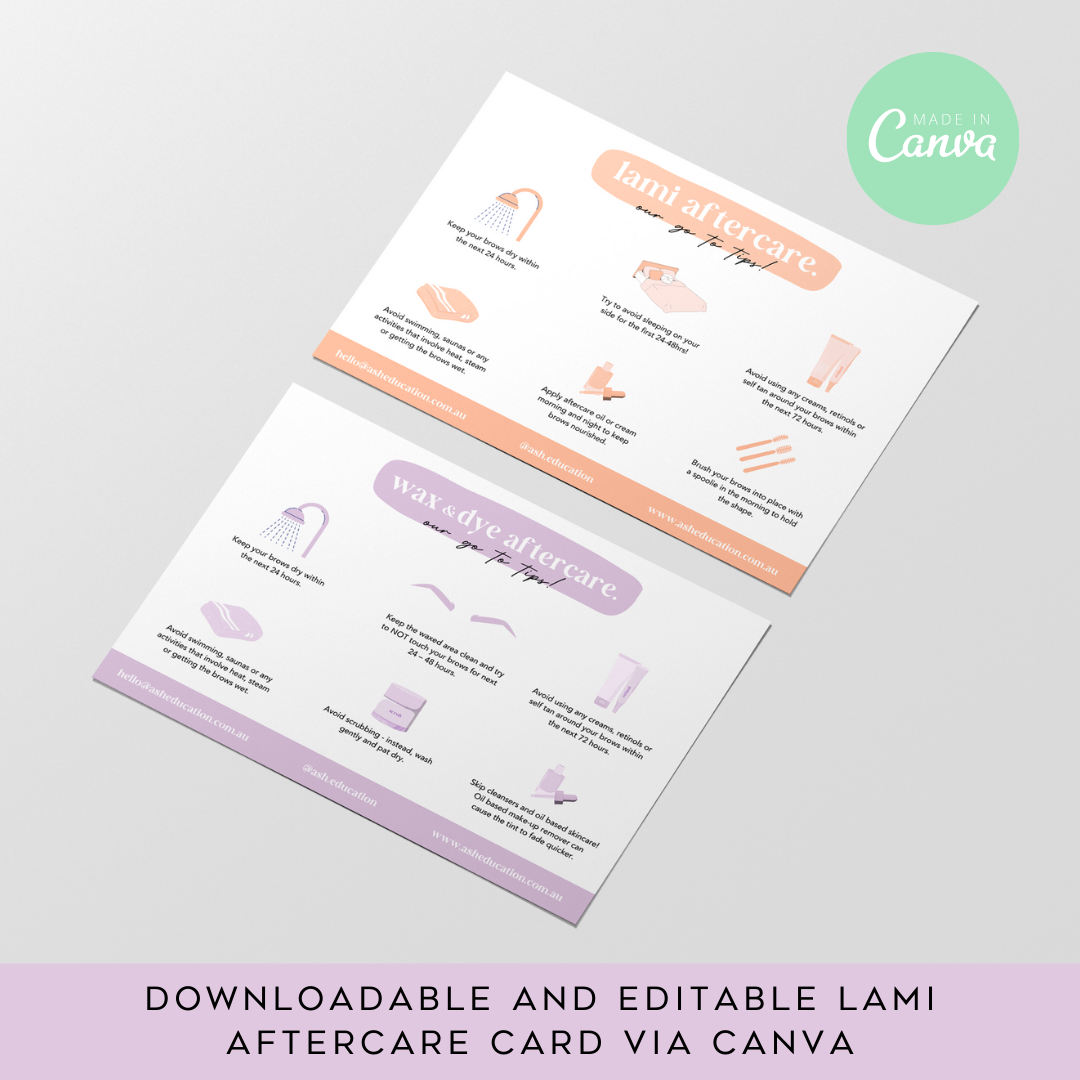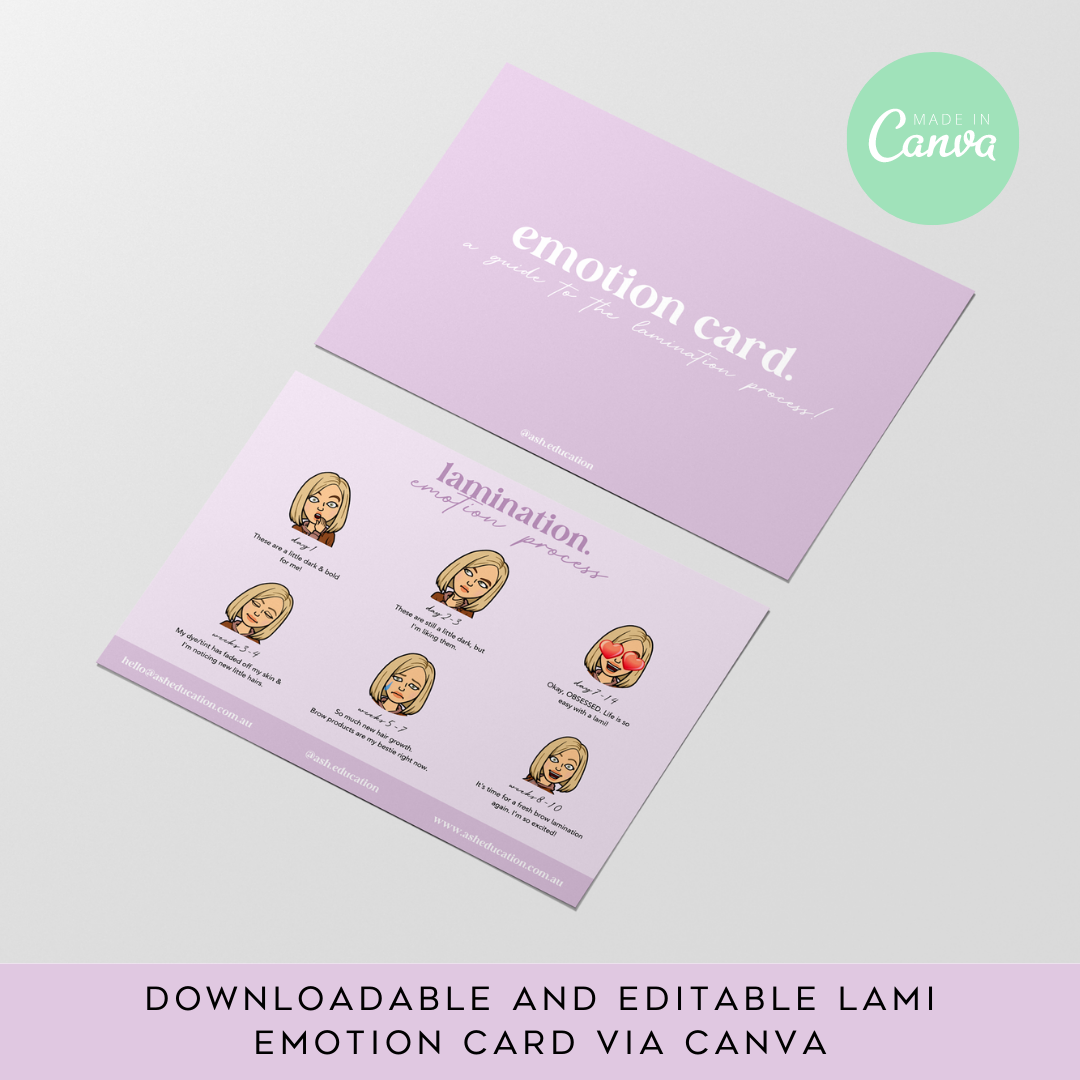 ASH Education - Ultimate Consultation & Aftercare BUNDLE (Custom Editable Design)
COMPLETE BUNDLE
ASH firmly believes in the principle that a one-size-fits-all approach does not apply when it comes to eyebrow services. Each client's brows should be tailored to their specific requests, achieved through comprehensive consultations. 
Our form empowers you to delve into your clients' desired brow shape, colour preferences, and any specific concerns they may have, such as allergies or previous experiences. By gathering these crucial details upfront, you can tailor your approach to each individual, ensuring a customised and satisfactory experience.
ASH Education's go to tips for clients at home aftercare for Lamination, Wax & Services. The perfect accessory to add to your take home aftercare kits or to simply give to clients when their services are completed.
WHAT'S INCLUDED
Consultation Guide
Downloadable Brow + Lamination Consult Form Template 

(Custom Editable Design)

Downloadable Lamination + Wax & Dye Aftercare Cards

(Custom Editable Design)

Lamination Emotion Card (Custom Editable Design)
WHAT CAN BE EDITED
All text, fonts and colours are customisable.
Add, reposition and resize text boxes.
Change any existing branding to your own such as logo, addresses, social handles.
Unlimited edits, downloads and no expiration date.


WHAT CAN'T BE EDITED:
Templates cannot be resized.
Emoji Images (you are welcome to replace with whatever images you like)
SIZE:
Standard A4 
Standard A6 "Thank You Card"

HOW IT WORKS:
1. After purchasing, you will receive a PDF containing the link to the editable Canva templates.
2. Download the PDF file containing the link to your template.
3. Create a FREE Canva account then edit in your browser at Canva.com or in the Canva app.
4. Download as a PDF, JPG, PNG. We recommend PDF for better printing quality.
5. Print at home, from your local print shop, or order via online printing options.
PLEASE NOTE:
A FREE Canva account is needed to open and edit the templates on your computer or in the Canva App on your phone.
---
ASH Education - Ultimate Consultation & Aftercare BUNDLE (Custom Editable Design)
Refund Policy

Refund Policy for Digital Product

Thank you for your interest in purchasing our digital product. We would like to inform you about our refund policy, which is as follows:

1. Non-Refundable Product: Once the digital product is purchased, it is considered non-refundable. We do not offer refunds, returns, or exchanges for any reason.

2. Confirmation of Purchase: Before completing your purchase, please ensure that you have thoroughly reviewed the product description, features and system requirements.

3. Product Support: While we do not provide refunds, we are committed to providing you with excellent customer support. If you have any questions regarding the digital product, please feel free to reach out to our support team at hello@asheducation.com.au. We will do our best to assist you promptly.

4. Unauthorised Distribution: Unauthorised distribution or sharing of the digital product, including sharing login credentials or downloadable files, is strictly prohibited and may result in legal action. Please respect our copyright and intellectual property rights.

By purchasing and downloading the digital product, you acknowledge and agree to abide by the terms and conditions of this refund policy, understanding that the product is non-refundable.

We value your satisfaction and strive to provide a high quality digital experience. If you have any questions or concerns about our refund policy, please do not hesitate to contact our customer support team.